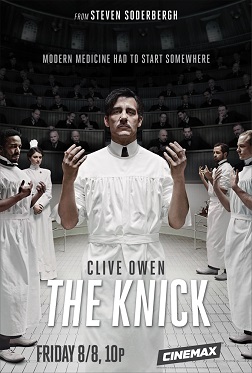 The Knick is a series on Cinemax TV directed by Steven Soderbergh and starring Clive Owen that takes a look at the professional and personal lives of the staff at New York's Knickerbocker Hospital during the early part of the twentieth century.
This show was aired from August 8, 2014 to December 18, 2015. On March 23, 2017, Cinemax announced that it will cancelled after two seasons.
The Knick is set in downtown New York in 1900 and is centered on the Knickerbocker Hospital ("The Knick") and the professional and personal lives of groundbreaking surgeons, nurses and staff who work there, pushing the bounds of medicine in a time of astonishingly high mortality rates, limitations of the then-current medical understanding and practice, and zero antibiotics. Clive Owen stars as Doctor John Thackery, a brilliant surgeon pioneering new methods in the field, despite his secret addiction to cocaine and opium. Dr. Algernon Edwards, a Harvard-educated, European-trained black surgeon must fight for respect within the all-white populated hospital, as well as the racially-charged city. While literally struggling to keep the lights on, the hospital attempts to attract a wealthy clientele, without sacrificing quality care.
Clive Owen as John Thackery
Andre Holland as Algernon Edwards
Jeremy Bobb as Herman Barrow
Juliet Rylance as Cornelia Robertson
Eve Hewson as Lucy Elkins
Michael Angarano as Dr. Bertram "Bertie" Chickering, Jr.
Chris Sullivan as Tom Cleary
Cara Seymour as Sister Harriet
Eric Johnson as Dr. Everett Gallinger
David Fierro as Jacob Speight
Maya Kazan as Eleanor Gallinger:[4] Everett Gallinger's wife. The two have a baby daughter named Lillian.
Leon Addison Brown as Jesse Edwards:[4] Dr. Edwards' father who works for Captain Robertson as carriage driver.
Grainger Hines as Captain August Robertson
Matt Frewer as Dr. J. M. Christiansen